COMPANY HISTORY
Specialist Lifting and Transport (SLT), is a Division of the Public listed company Move Logistics Group Ltd, based in New Plymouth, having joined the group in November 2018.  SLT has two main operating groups, namely Tranzcarr Heavy Haulage and Machinery Movers.  They work independently but overlap with their experience and High-End ability in specialist transport, working closely together on the larger projects.
The company prides itself on quality and safety, in all aspects of their work and have attained ISO45001:2018 certification; a copy of the certificate is included in this profile.
In the time that the Division have been in operation, the management have committed to major investments in re-building and upgrading of plant.  This investment indicates the company's commitment to the industry in New Zealand and the desire to offer the best equipment, coupled with the best expertise.
The Machinery Movers Division specialises in machinery extraction and installation, and has an extensive fleet of trucks, low loaders, step deck trailers, extendable trailers, forklifts up to 16 tonne capacity, and Hydraulic Lift n Lock Gantry systems up to 435 tonne.  This sector also has its own Franna Cranes, to assist with lift and relocation of equipment, plus Specialised Trailers have been added to the fleet, that are able to successfully transport long loads, up to 65 metres.  A full list of equipment is included in this report.
Commencing operation in 1990, Machinery Movers has forged a very successful name in the market, both in general construction work, factory machinery relocation and specialising in the handling of heavy power plant equipment; namely Transformers, Generators, and Turbines up to 375T.  This service compliments those services offered by the Heavy Haulage division (Tranzcarr), giving a total logistics package to the industry.
In January 2001, Tranzcarr Heavy Haulage successfully completed the relocation of the Ironsands Plant for BHP NZ Steel, at Taharoa.  This contract was a major boost for Tranzcarr, as BHP was heading down the path of relocating the plant by floating it through a canal.  Tranzcarr approached BHP to discuss the option of roading the three (3) main units, weighing 1000T, 450T and 250T, respectfully.  After careful consideration, BHP accepted Tranzcarr's proposal and a contract was issued, that not only included transport, but dismantling and reassembling of the plant and building, suitable dry docks for loading and unloading, roadway construction (to New Zealand Highway standards), and a bridge across a dam culvert.  Tranzcarr Heavy Haulage managed the entire contract, and the result was a very successful project.
Because of this project, Tranzcarr Heavy Haulage were awarded the '2001 HAULAGE JOB OF THE YEAR' by the Specialised Carriers & Riggers Association, at their annual awards held in Florida, in May 2001.
With the need for safer methods and the requirement to work in confined spaces, SLT has introduced 4 x specialised Lift n Lock Hydraulic Gantry systems.  These units have been imported from the USA and have capacities of 200 Tonne, up to 430 Tonne, respectively.
In 2005, Tranzcarr was successful with the transport and installation contract for the e3p project, for the new 400-megawatt Power Station at Huntly.  For the transport, Tranzcarr added to their fleet, 32 lines of new Goldhofer UT from Germany.  These trailers tare at 3.2 Tonne per axle and were able to carry the 377 Tonne Gas Turbine, over a span of 6.8m.  They also have a 1.8m axle spacing, which better suits New Zealand conditions.  This project required the need to span 14 bridges, with separate bridging structures, supplied by Tranzcarr.
The Installation on this project saw the 4 main units lifted 10m and then propelled up to 65m to the final foundation.  Tranzcarr completed this scope of work in addition to the transport, together with the Hydraulic Lift n Lock Gantry systems operated by Machinery Movers.
Between 2006 and 2012, a further 44 axle lines of the Goldhofer UT trailers, have been purchased and added to the fleet.  In addition, there are 38 axle lines of MTE Platform trailers.
Massive expansion into Windfarm developments in New Zealand, saw Tranzcarr expand their fleet capacity to handle the various commodities, including trailers now capable of 65 metre blades.  Since 2004, over 350 turbines have been hauled around the country. 
In recent years, SLT has also extended their work into the South Pacific, with work completed in Fiji, Vanuatu, Papua New Guinea and Samoa, and feasibility work done in Tonga and Fiji.  The nature of these projects has meant the complete shipping to those countries, of all transport and installation equipment required for the projects.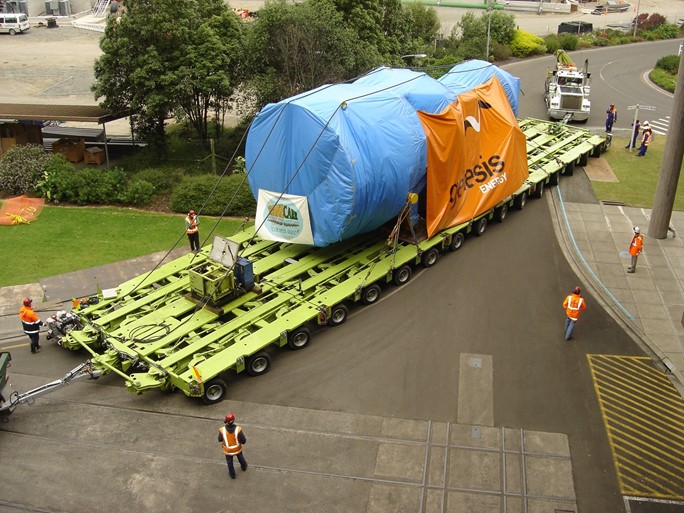 Huntly e3p Project - Gas turbine 377 tonne